The collateral damage caused by chemotherapy can be debilitating for cancer patients. Oral mucositis (OM) is one of the most common adverse event of chemotherapy, affecting over 1.4M patients per year worldwide. The appearance of mouth ulcers can be so severe that patients are unable to talk, chew and swallow food. Importantly, in 40% of cases the symptoms of OM are serious to the point where patients' treatment schedules require reduction, either through reduced dosing or early termination of therapy. These events in turn reduce the efficacy of chemotherapy with a high risk of reduced survival rates. Pharmaceutical solutions for prevention are market-available for OM, however, these drugs have demonstrated limited efficacy, are either associated with side-effects of their own, or have potential to neutralize the effects of chemotherapy. What is preferred for both patient and medical staff are a non-pharmaceutical solution for OM prevention.
Among the most common regimens for breast cancer (ie, AC+T – doxorubicin, cyclophosphamide, and paclitaxel or docetaxel), ulcerative mucositis occurs in about 20% of patients during the first cycle of treatment. If that group of patients receives the same dose of the same drugs in a second cycle, the frequency of OM jumps to 70%. Some of the newer regimens for metastatic breast cancer are even more stomatotoxic. The incidence of OM is more than 60% in patients receiving docetaxel and capecitabine, with 15% of patients developing severe OM.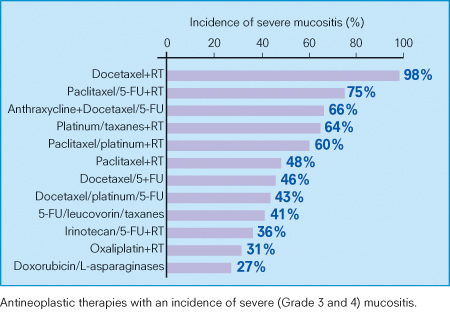 Risk of mucositis
The largest group of patients will fall in an intermediate category in which the risk of mucositis is somewhere between 20% and 49%. Cancer diagnoses in this group are those of the most common types: breast, colorectal and lung cancer. If a patient develops mucositis in one cycle of treatment, the risk of a repeat is over 70% in subsequent.
It is very individual who will develop OM despite similarities in diagnosis and treatment and it strengthens the thesis that all patients should receive treatment for prevention.